---
Brand new condition. Unused product.  Just Open Box.
Description
The Apple HomePod speaker is the perfect speaker for smart homes of music lovers who love to explore new and wide variety of aural entertainment. This home audio system features an Apple-engineered Audio Technology and High-end Software to deliver immersive sound, and an A8 Chip for bass-heavy, distortion-free music. Also, it flaunts an aesthetically pleasing design to enhance the interior decoration of your home while delivering powerful audio.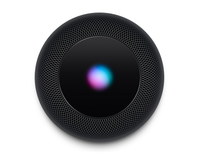 Cutting-edge Home Speaker
The Apple HomePod is capable of adapting to its surroundings to deliver a high-fidelity audio experience. So, whether you are using it in your master bedroom or modest kitchen, it delivers an impressive sound. Along with Apple Music and Siri, the Apple HomePod creates an interactive and immersive musical experience. So, with this audio device, you can accomplish a number of tasks in your smart home using your voice.
Nuanced Sound
This portable speaker is purposefully designed to deliver rich and nuanced sound. The design brings together custom Apple-engineered audio technology and an advanced software that offer precise sound. Also, it is about 18-cm tall, and you can keep it anywhere.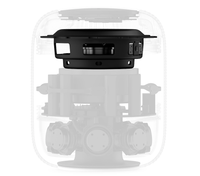 Deep Bass
To create deep bass sound, this speaker has Apple-designed high-excursion woofer on its top and faces upward. Furthermore, a six-microphone array and an internal bass-EQ microphone analyze as well as compensate the effect of your room on its bass response. As a result, it offers a consistent and rich sound.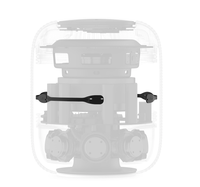 Impressive Listening Power
The HomePod has six microphones that are placed in a way that this device picks most sounds from any corner of your room. Thus, when you utter "Hey Siri", the advanced signal processing and echo- and noise-cancellation technology ensure that this device hears you loud and clear. Also, this speaker ensures that your requests are encrypted, and also sends it anonymously to Apple servers. So, it doesn't need an Apple ID to give you the results.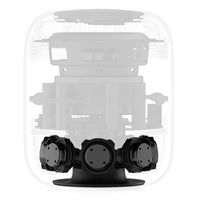 High-fidelity Audio
This speaker features seven beamforming tweeters with individual amplifiers to offer incredible directional control. The tweeters are located around the base, and they use a folded-horn design to send the audio flow towards the center followed by the bottom in a 360° pattern. This results in consistent high-definition audio.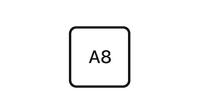 A8 Chip
The Apple A8 Chip has various innovative technologies, such as an advanced signal processing system, real-time studio-level processing, and upmixing direct and ambient audio. So, this speaker can hear your voice even when music is playing, and it can maximize the bass while minimizing distort to deliver amazing audio.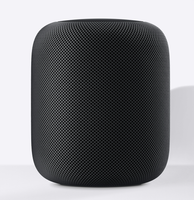 Stunning Design
To enhance its aesthetics, this speaker is wrapped in a mesh fabric. It looks stunning in any corner of your home and delivers a great performance.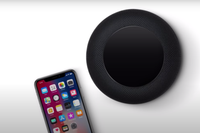 Easy Setting
You can easily set-up the HomePod. Once you plug it in, your iOS and/or iPadOS device detects it. This speaker has spatial awareness, so it tunes itself automatically to deliver optimal audio experience no matter where you place it. You can also pair one HomePod with another HomePod to enjoy a stereo experience.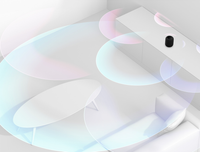 Place it Anywhere
You can place this speaker anywhere you want, and its spatial awareness will ensure that the audio quality is unmatched. To enhance your experience, this speaker beams the direct sound, which includes main vocals and instruments, to the center of your room. And, the ambient audio is distributed via right and left channels to ensure that it bounces off the walls to fill your room with music.
Stereo Pair
When you pair two HomePods, each one automatically detects its exact placement in the room. Then, both the devices adjust the audio quality to ensure that you experience a truly impressive stereo sound.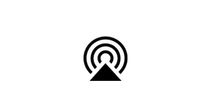 Control Music with AirPlay 2
If you use multiple HomePods in different locations in your home, they use AirPlay to communicate. So, you can give commands to play different songs in different rooms in your home from one place. Also, when you go to another room from one room, you can tell the HomePod in the previous room to play the same song on the HomePod in the next room. If you have any other AirPlay 2-compatible speaker, you can play music on it by giving command on your HomePod.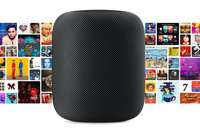 Discover More Music
You can experience the best of Apple Music and explore more than 60 million songs. You can hear the latest as well as classic music on this speaker.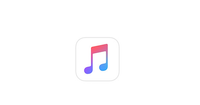 Choose What You Love
When you hear a song, you can say "Hey Siri, I like this song". This device will register the same, and later, you can ask "Hey Siri, play something that I'd like" to enjoy something that you will like.

Stream Audio
You can listen to music, news, podcasts, video, and audiobooks from various sources on this speaker.